Do you avoid new business development like the plague? Do you define new business as "cold calling," "sales," "marketing"?  Are you ready to transform how you think about new business? This session will focus on strategies for building authentic, one-to-one relationships with prospects that take time, focus, ongoing nurturing, and a change in tactics. But, when done well, can be a fun, challenging, and a rewarding aspect of any successful business. In this session, you'll learn why you need to change your thinking about what new business development really is and better ways to do it from business consultant and author, Emily Cohen.
Lunch will be provided with cost of ticket. Vegan options and gluten free options available. Emily will have her book available for purchase and signing.

About Emily Cohen
A brutally honest consultant, Emily Cohen has been honored to consult and work with many leading design firms across the country. Through these experiences, she has developed, tested, and curated key business insights and strategies that have helped firms become more effective, profitable, and fun to work at. Emily conducts strategic business planning retreats and provides confidential, best-practice insights and advice on staff, client, and process-management strategies. She loves sharing her expertise through speaking engagements, guest posts, her Skillshare class, webinars, industry activism, and, most recently, in her new book: Brutally Honest, No-bullshit business strategies to evolve your creative business. She is also fast-talker, a designer by degree, an avid reader, a trend-spotter, a connector, and her clients' advocate.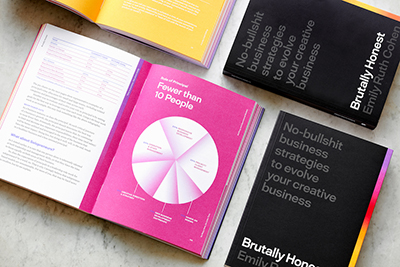 Sponsored by Friendly Design Co.