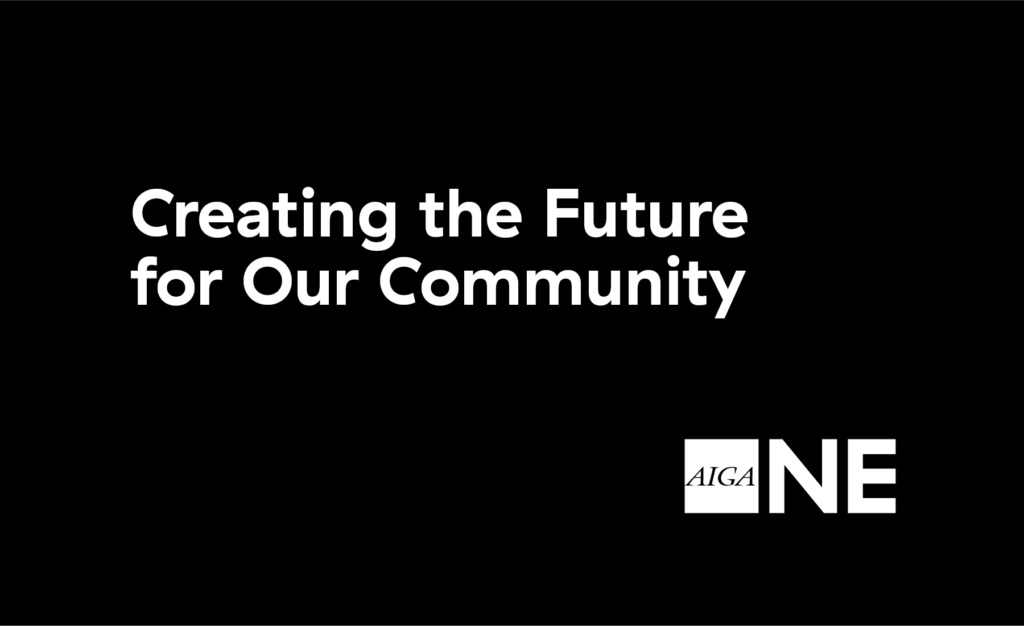 Community Update
Dear AIGA Nebraska Members & Community,
In July 2020, we promised to work towards changing the DNA of our organization to increase diversity and inclusivity and to build equity (DE&I). We pledged to review and revise our board composition and to engage paid professionals to help us embark on the learning and training we need to better combat the issues surrounding systemic racism, white supremacy, and oppression in our organization and in the design community. In September, we paused all programming so that we could set aside the time and effort necessary to this process. We still have a long way to go, but we'd like to update you on some of the steps we've taken and our plans for the coming months.
Board Re-organization
One of our goals is making sure that our board is serving the correct individuals and organizations in our community and giving them a greater voice. To that end, we've changed the way the board is structured so that every board member has a vote and a say in how we move forward, regardless of their role. In addition, more committee positions are available to member and non-member professionals and students. Committees include governance, DE&I, education, membership, programming, communication, in-house, and external partnership. The committees will be chaired by board directors and open to any volunteer participation. We hope that this will help open AIGA to more diverse voices and perspectives.
Our local board is still majority white, and we've been actively trying to recruit Black, Indigenous, and people of color (BIPOC) from the community. Many roles on the board and in these committees remain open. Please contact us if you want to get involved or know someone in the BIPOC community that would be a good fit.
Training
We're excited to share that we've engaged the services of k+r strategies, an Omaha-based "collaborative, majority Black-owned change navigation firm that centers equity and justice"* to help guide us through antiracism, sensitivity, and DE&I training. Founders Katherine MacHolmes and Rachel Grossman will lead us through a workshop designed to reframe our organization, goals, and values so that we can move forward within a solidly antiracist framework. We can't wait to get started on these months of training, led by local women of color.
Survey
As part of our anti-racism training with k+r, we'll be sending out a survey to all our members to home in on where we need to focus our attention and energy. We truly want to be more representative of our community and become more inclusive in our reach. Your opinions matter and we'll be looking forward to hearing what you think.
A Quick Un-pause
As a final note, we want to make you aware that despite the continued pause on all programming, the 2021 On Brand Conference will take place this summer as part of a pre-pause participation agreement in partnership with AAF Omaha, AMA Omaha, and PRSA Nebraska. On Brand is a career development and networking opportunity for those involved in creating and promoting brands. Registration is open now on EventBrite.
On Brand Speaker
We've engaged Lisa Babb, lecturer at George Tech School of Industrial Design as our On Brand keynote speaker. Lisa is a social activist and a systems-based graphic designer with more than 20 years' experience. Holding both a BA and MA in graphic design, she credits it with giving her a platform to create change in her life and in others'. She lives by the mantra, "If you want a better world, make one," and believes that design is one of the few things that can defeat habits, for better or for worse. Learn more about Lisa here.
As always, please reach out to us any time with questions or comments.
Sincerely,
The AIGA Nebraska Board of Directors
(July 2020)
To the creative community,
We stand at the crossroads of complacency and action. Before we go down the path of action, we must be aware of our past.
The problem.
In 1914, there were a group of white-men who formed what we've come to know as AIGA. When formed, this organization was white- and men-only and we must acknowledge the systemic issues this has created. In lifting up only the white-male the voices of women and BIPOC have been silenced. In 1920, AIGA became the first graphic arts organization to include women designers but didn't elect their first woman president till 1958. It is unclear in AIGA's history when it began to desegregate.
Over the past 30 years, there have been attempts at making AIGA 'less-white'. National task forces have had troubles gaining traction and making actionable change. AIGA continues to make mistakes; struggling with elitism, remaining relevant and current, and continuing to white-wash. I want to give thanks and credit to Antoinette Carol for holding us accountable and highlighting the issues of white supremacy within AIGA. She isn't the first or last to voice concerns of these issues within AIGA. We must credit all the individuals who have both voiced their concerns and those who have worked on these task forces over the decades.
The intersection.
Our local chapters—while having a charter affiliation with AIGA 'National'—operate as independent non-profit organizations. While we have a voice at National we have the power to change our chapter. In 2016, our first Diversity & Inclusion Director, Cathy Solarana began the change. But, more must be done, and we have the power to change.
We know that silence is not acceptable and being an ally isn't enough. AIGA Nebraska needs to work to support marginalized people in our creative community through our organization. We need to work to be actively anti-racist; to not actively make change is dangerous and not what we stand for. We must take more- and better-informed action. And that starts now.
Our approach.
George Aye's article, Dismantling White Supremacy Culture Within AIGA, inspired us. To give our organization the serious attention and energy it deserves, it takes more than our volunteer board can give while running monthly programming—during a pandemic nonetheless.
So first, we are going to pause ALL local chapter programming. Right now we need to listen, and better understand the community we serve. We plan to engage paid-professionals to help us embark on the learning and training we need as an organization to better meet the challenge of systemic racism, white supremacy, and oppression.
To our paying members.
We understand you will likely have concerns. Your membership dues will be vital to helping our local chapter during this time. You will still have access to all the benefits provided by National. We invite you to be engaged in this work. We want to hear your stories and through your insight better serve our community.
We must change the DNA of our organization.
We don't know how long it will take to make the proper changes to our organization; to be diverse, inclusive and build equity. This isn't a brief endeavor. We are just starting a process that could easily take 12-24 months. As part of the processes, we will be reviewing and revising how we function, our board composition, and making sure we're serving the correct community. We're going to need your help.
If you are interested in supporting our local efforts we invite you to be a part of this change.