Meet Your Board:

Ben Stevinson
Barcamp Chair | February 2016 – present

Why did you join AIGA?
I'm a huge fan of good design and I love seeing the promotion of good stewardship of design in my community. I was also really interested in meeting a lot of fun and amazing new people throughout the community.
What inspires you?
I love seeing what people are excited about! I'm a pretty excited person myself so I love talking to people about the things that get them going.
How do you AIGA?
All day, every day.
What do you like to do in your free time?
I really love good food and drink so I spend a lot of my time cooking and eating awesome food and brewing and drinking awesome coffee/beer.
I like to say that everything I like in live begins with the letter C – Cameras, Computers, Coffee, Cooking, and Craft Beer are all ways that I love spending my time.
Hey Ben, what's your favorite Star Trek series?
I think the best series is Star Trek: The Next Generation, but my personal favorite is Star Trek: Voyager!
What advice do you have for emerging creatives?
So I'm a photographer and this has to have a photography slant to it because that's my biggest creative outlet.
When you're just getting started with your creative passion, its' really important to do a lot of work. Like, a lot of work. I was really inspired early on by this video (https://vimeo.com/85040589) featuring Ira Glass' voice.
When you just get started, there's a gap between the quality of work you're producing and what you consider to be good quality. You have really good taste, but you're consistently disappointed by your own work because it's not matching up with your taste.
Personally, I really struggled with this exact issue. I spent a couple of years just producing and churning through photos and events and taking on as much free work as I possibly could before I actually started getting to the point where I was proud of my work. I'd come home, download all my photos, and immediately tear myself down in my mind because what I was producing didn't match up with my own expectations. I just kept working and working and working and eventually I started getting results that I was truly proud of. I think hating your creative work for a year or two honestly is probably normal. It's a process of figuring out your technical skills as much as it is a process of figuring out yourself. But you'll get there. You'll still critique yourself, but it won't be in the same way. You'll always be getting better.
Choose a color.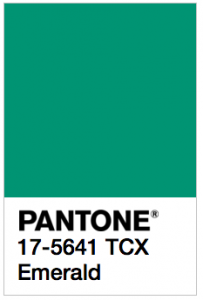 (2013's color of the year!)