AIGA Nebraska'a Revinylize initiative is our most successful so far in showing that design thinking can solve real problems. At our Revinylize booth at the Summer Arts Festival, we transformed waste billboard vinyl into colorful, durable shoulder bags.
We sold hundreds of bags and reused over 100 pounds of PVC plastic. But our second year wasn't as successful as the first, and we decided that this year's Revinylize would be our last — meaning our 100-bag surplus needed a home.
Rather than selling them, we felt it was more in the spirit of Revinylize — and our objectives for 2013 as an organization — to donate the bags to someone that could really make use of them.
In short, to close Revinylize the same way we started: with design-thinking.
The Hope Center for Kids was the right call, taking the lot, and immediately planning to use them for their rewards program. Deb Johnson, Director of Operations was fantastic to work with, and the staff was happy to model for us.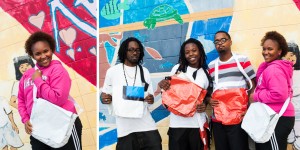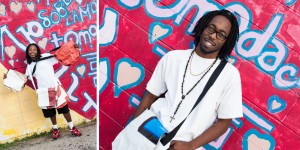 The Hope Center for Kids serves the needs of at-risk children and youth by offering… a safe, supportive place to be every weekday afternoon.
Thanks to Rochae, Charles, Willis, Tyrell and Deb for so graciously and enthusiastically helping us bring Revinylize to a responsible close.