Featured In-House Designer: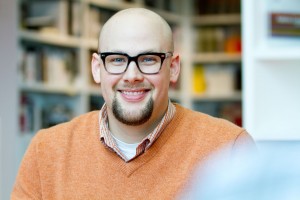 Matthew Delaney

Graphic Designer | HDR
We were able to catch up with in-house designer, Matthew Delaney. We learned what Matthew loves about his job at HDR in Omaha, his love for illustration, and that he was right about Snape…
Read on to learn more about Matthew for yourself.
Tell me about yourself and your position:
I am a native Nebraskan with a degree in Visual Communication and Design from the University of Nebraska at Kearney. I was born and raised in Blair, Nebraska, and still make the commute to Omaha each day. I enjoy spending time with my son, Kal-el (yes, named after Superman) and my corgi, Spud (yes, after a potato). I work on a wide variety of graphics tasks, such as designing major pursuit materials to win work for the architecture company, corporate ad standards, and developing smart templates and efficiencies within InDesign. I am kind of a InDesign guru who has really embraced my inner geek. Outside of my day job I love all forms of illustration, but especially drawing and painting, film, photography and comic books―not to mention my true love… shooting pool.

How did you get into design?
When I started at UNK I wasn't sure what I wanted to do. I knew I didn't want to work construction as my father had. I wanted to be a painter but knew that was a tough world to get into…especially in the middle of the country. I was actually going to my advisor to change my major to advertising and he asked if I had ever thought about graphic design. I knew very little about it but after I audited a class, I was instantly in love.
What inspires you?
I hate to sound cliché, but my son inspires me everyday. It is incredible the amount of creativity children have. He is so smart and silly and thinks of the darndest things. We often play drawing games together and I am inspired by what he comes up with.
In addition to that I am an eternal fan of the Bauhaus, Saul Bass and Salvador Dali.
What's your design process?
The first thing I try to do is determine what is the desired goal of what I am creating? If I am working on a pursuit, what is the key message we want the client to walk away with when looking at our materials? Is it designed focused or perhaps something more to do with human connections? Once I have the main idea, I try to create something that says that without being garish and if possible put my own unique twist on it.
What do you do when you feel stuck creatively?
This one is easy, I draw. If I can't come up with a solution I will just grab my sketchbook and start drawing something completely unrelated. For some reason distracting my brain kind of gives me a 'reboot' and I can often come to a better solution.
The other thing I will do if I am really stuck is abandon what I was working on and do something completely different. Often you get too close to something and you can't 'design' your way out of it.
As an in-house designer, are there parts of your job that you didn't expect you'd be doing when you went into design?
Yes! I was excited for the stability that comes with an in-house position but was nervous that I wouldn't get the creative environment and variety I was used to at an agency. I have done so many different things I can't begin to describe them all, but some of my favorites have been working on paintings for interiors of a building, designing infographics to simplify complex ideas, logo design, sketch noting as well as signage.
Do you freelance? What kind of work do you do?
I do freelance as often as I can fit into my schedule (as long as it is not a conflict of interest with my current job). I do a lot of logos, wedding invitations and posters.
Any advice for new designers?
Learn as much as you can and develop a thick skin. The more you learn the better you will become, not only about design but about anything that interests you. I am a firm believer that our life experiences help shape the designers we become. There will also be a lot of rejections and struggles in your career. Having the ability to take criticism and learn from it without being offended is a rare skill these days.
What is something interesting about you that not a lot of people know?
I am a die hard Harry Potter fan (tattoo and all). Before the final books came out I actually organized a book club that met once a month to discuss details we discovered in the prior books that helped us predict how it was all going to end. Each book that came out I would sequester myself in my house till I read it, no TV, no radio so no one could spoil it. I was right about Snape…
What do you like to do in your free time?
I mentioned this earlier but I love illustration, drawing and painting. I am a movie buff. I also enjoy photography with my SLR. I love to play pool, fish, hike and travel as well. Plus I am a huge nerd and love comic books and all the wonderful movies Marvel and DC have been making as of late.
If you could meet anyone, alive or dead, this era or eras past, who would you meet and why?
These always are tough questions for me. It's hard to pick just one person to meet!
Dead I would choose Chris Farley because he was a comedic genius and would be a pretty funny guy to hang out with.
Alive I would choose Maynard James Keenan, lead singer of Tool, A Perfect Circle and Puscifer as well as wine entrepreneur. Aside from being (in my opinion) one of the most talented musicians/entertainers ever, he is also brilliant and would definitely hold a pretty interesting conversation.
______________________________________________________________________
Thanks for sharing your story with us, Matthew!
Are you an in-house designer? We need your help! Please take this 3 question survey to help improve AIGA for our in-house community. Go to the survey!