Featured In-House Designer: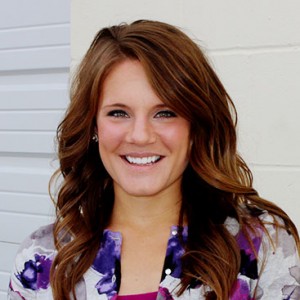 Jessica Pape

Graphic Designer & Marketing Director | Regal Printing
We were able to catch up with Omaha, in-house designer, Jessica Pape, the Marketing Director at Regal Printing Company. We learned a little bit about what she does for Regal, what her creative journey has been like, and what inspires her. 
Tell me about yourself and your position at Regal Printing:
I started at Regal Printing in August 2014 as the Marketing Director, which was a new position for the company. When they brought me on, Regal had little to no social media presence and had just started the process of updating their website, so those were the projects I tackled first. I will admit, it was a bit intimidating starting a marketing department from the ground up, but it has also been really rewarding to see the positive impact I have made in the short amount of time I have been with Regal.
The bulk of my experience before working at Regal Printing, was with an ecommerce jewelry company where I designed email blasts, updated website graphics and managed their social media. As an in-house graphic designer you wear many hats and no two days are the same, which is definitely the case at Regal as well!
How did you get into design and marketing?
Growing up I had a lot of creative energy and was always making things, but I never really saw how I could make my passion a career. It wasn't until I was nearing the end of my sophomore year at Augustana College in Sioux Falls, South Dakota when I took a graphic design class and realized that's what I wanted to pursue. I had already declared a major in Marketing, so adding graphic design was the perfect fit.
What inspires you?
This is a very interesting question because it has changed so much in the past couple of years. Before the days of Pinterest and blogs, I can remember spending hours at Barnes and Noble looking through design magazines and creating physical inspiration boards of my own. Now there are a plethora of blogs and social media outlets like Pinterest and Instagram, and it seems like all the inspiration you could ever hope for is only a few clicks away.
I will admit to being an avid pinner, I read several design blogs daily and I am always checking Instagram. I find it really interesting to follow other creatives and see what makes them tick, as well as getting a glimpse into their creative process. I also love noticing patterns and I often look back at things I am pinning or liking on Instagram to get a grasp on what I am drawn to. I think being conscious and aware of those patterns can help you define your personal style in a way that wasn't as easily identifiable a few years ago.
As much as I love social media, I am also a big advocate for looking beyond the internet for keeping my ideas fresh. Often times we can start to see a lot of recycled content on the web and it is important to step away from the computer and fill your life with interesting experiences, rather than just scrolling through Pinterest.
How do you collaborate with your coworkers?
Great question. Coming from an ecommerce company where I designed mostly for web, I really hadn't worked much with print, so there were definitely a few things I needed to learn. My coworkers were great with giving me pointers and giving me input on printing techniques and how best to get things into production. I would definitely advise any graphic designer working with print to establish a relationship with their printer. They can offer great advice on everything from the type of paper to use, to how to maximize your budget for a certain project.
What's your design process?
It depends on the project, but mood boards are always a great way to start and as I mentioned before, Pinterest is a helpful tool to get all of my ideas in one place. Otherwise, simply grabbing a notepad and pen is great too. Often times I like to sketch out my ideas or I like to write lists of words related to the project to help get my ideas flowing.
What do you do when you feel stuck creatively?
When I'm feeling stuck, it's usually best to walk away from the computer and take a break. I wish there was a magic solution to that problem, but I feel like it's something that all designers struggle with from time to time.
Also, although it might sound cheesy, I have learned that the best remedy can be avoiding burnout altogether by taking care of yourself. As an avid runner I have learned that in order to perform at my best I have to eat well and get enough sleep, and the same is true for staying sharp creatively. I'm pretty sure no one is creative when they're tired and hangry!
Do you find it difficult switching between design and marketing?
I feel like marketing and design go hand in hand pretty well. It's nice to have a little variety in my job, instead of strictly focusing on design, but I will admit it can be a little overwhelming at times. When you're a team of one you have to be the designer, the photographer, the copywriter, the videographer, the editor and more on a daily basis. There's no delegation and you really have to learn how to wear a lot of different hats in order to get the job done.
Do you freelance? What kind of work do you do?
Yes and no. When you're young and fresh out of college, you're hungry to build your portfolio and you want to make extra money, so you're willing to say yes to anything. So that's what I was doing for a long time, but I have come to a place where I am learning it can be good to say no once in a while to make room for the work that really makes you happy. I've gotten a lot of great experience through a variety of freelance projects over the years, but I am ready to start focusing my creativity on a few personal projects that I've had on the back burner and be a little bit more selective about the work I take on. I think as you mature as a designer you begin to realize the importance of attracting work that really excites you instead of trying to do anything and everything just to make a little extra cash. Right now I'm at a bit of a crossroads and I am trying to figure out what direction I want to go next. Freelance is always something I'll do, but it may just be in a different capacity going forward.
Any advice for new designers?
It's kind of funny because I think about this a lot…probably more than I should. I look back at college, and I had no idea what I wanted to do. I think deep down, if I had been really honest with myself, I knew I wanted to do something in the creative field, but I really didn't know what jobs existed or what opportunities were available. As cliche as it sounds, my advice would be to trust your gut. I fell into design as a sophomore in college, which is by no means late in life, but sometimes I wonder if I would have found my way sooner if I had trusted my intuition.
I would also recommend expanding your focus beyond graphic design, because so many areas in marketing and design overlap. My background in business and marketing definitely made me more valuable to employers than if I had just focused solely on graphic design. For example, I would suggest learning how to code, learning about photography and keeping up on current trends in social media. It's important to have a lot of tools in your tool belt, especially if you work as an in-house designer or part of a small team. It's also very important to stay on top of current trends in marketing and design because the landscape is always changing.Today there are so many resources and tutorials online that weren't available years ago, that it's much easier to take a proactive approach to expanding on what you were taught in school or become an expert at something you've been interested in learning. I have taught myself many things just by googling it or looking it up on YouTube!
Lastly, don't be afraid to take risks! I will be honest that this is something I still struggle with, but I have definitely learned that taking risks and failing is much better than not trying at all. As creatives it can be difficult to put your work out into the world to be criticized, but it is just part of the process and you will learn from every experience, both good and bad.
---
Thanks for sharing your story with us, Jessica!
Are you an in-house designer? We need your help! Please take this 3 question survey to help improve AIGA for our in-house community. Go to the survey!