By Cathy Solarana, Director of Diversity and Inclusion
I was fortunate to be able to join about 30 other passionate leaders and change-makers in the AIGA diversity and inclusion (D&I) space for a weekend workshop in Bentonville, AR. Attending this was, hands down, one of the best decisions I could have made. I reconnected with friends from the 2016 AIGA St. Louis Diversity and Design Conference who are kicking butt on the AIGA national task force, and met sooooo many new influencers as well.
We opened up our weekend with a group experience at the ultra modern Crystal Bridges Museum of American Art and the exhibition, Soul of a Nation; Art in the Age of Black Power. 'Powerful' doesn't do this exhibit justice. It was an emotional punch to the gut to be in the presence of over 60 black artists' work expressing a variety of impactful moments in the history of the United States. "This landmark exhibition is a rare opportunity to see era-defining artworks that changed the face of art in America."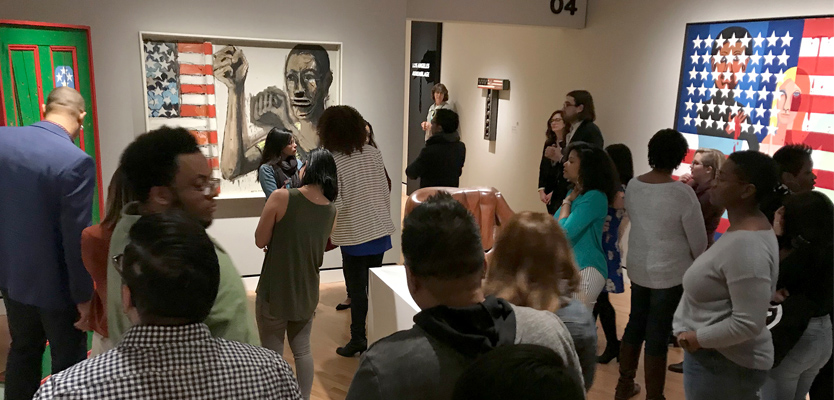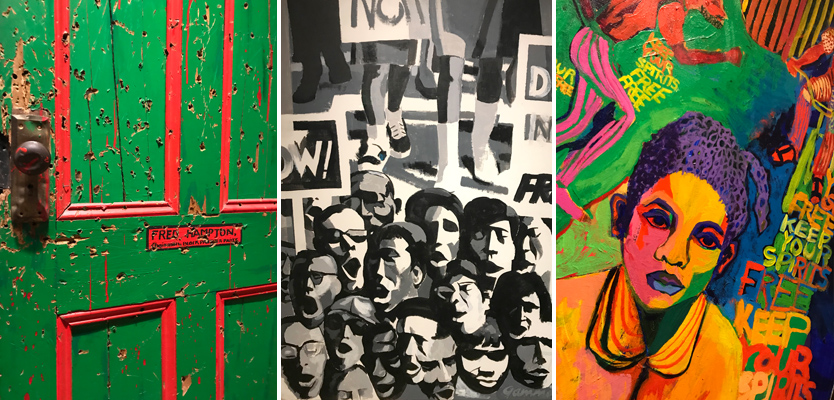 As the group moved from room to room, the conversations and art became more and more impactful. Each work evoked feeling of strength, fear, joy, despair, pride, hate, and sadness and skillfully blended colors and textures into themes of resilience, patience, and the passage of time into their design. This truly was one of the most impactful and beautiful parts of the evening. I felt like a sponge, absorbing every moment, every feeling, every color, every word, every sound, every perspective being shared. My mind and attitude were properly positioned for the work ahead.
I can't say it enough: AIGA is all about the incredible people we get to meet and learn from. That is it's best quality, and if we can stay human-centered, we can achieve anything set in front of us.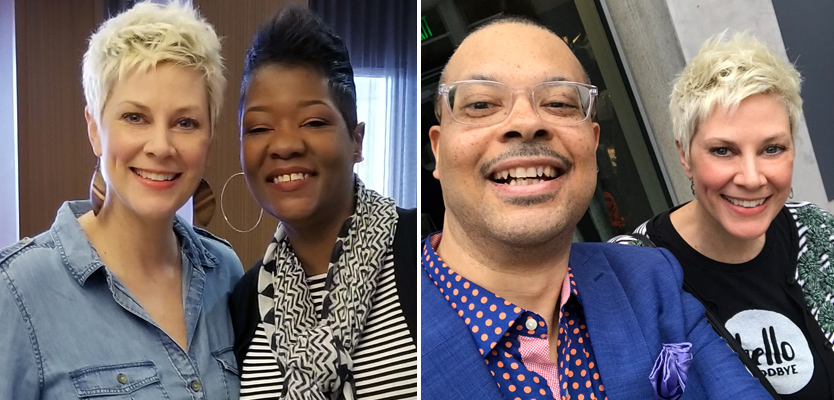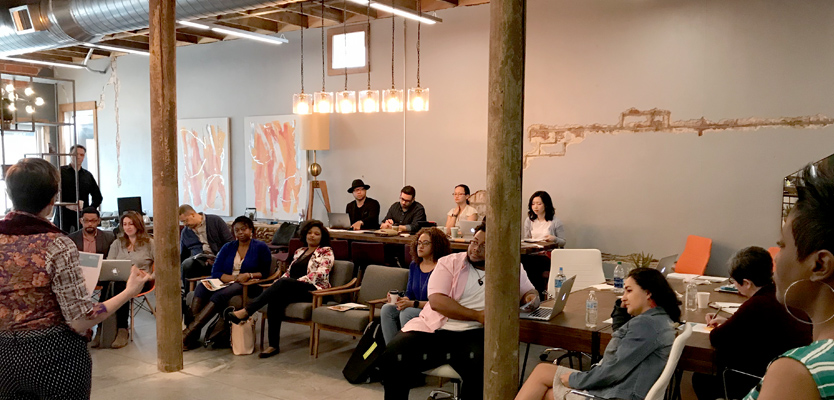 Pictured top left: Cathy Solarana and AIGA National Task force chair, Jacinda Walker. Top right, AIGA National Task force member Andrew Bass and Cathy Solarana.
The day-long workshop was held in an ultra cool, industrial chic, co-working space, hosted by the NW Arkansas AIGA chapter. They were such fabulous hosts! AIGA Executive Director, Julie Anixter, opened up the day with an enthusiastic overview of what AIGA national is doing to address our organization's D&I challenges. And through the digilent work of the AIGA national task force, they've established; webinar town halls, training videos, a guidebook with design research data and helpful reading lists to assist each chapter's D&I representative to be more successful with the initiative.
The D&I chapter reps, myself included, presented our local programming efforts and really got an understanding of the dynamics and strategy of what was working and what still needed to be done.
The Privilege Walk came next—a reflective exercise that highlighted how people benefit or are marginalized by systems in our society. I had seen something like it online, but never experienced it in person and looking at where we were all standing at the end, was truly eye opening and honestly, a little sad. It reinforced why D&I was so important to be focusing on both for AIGA nationally as well as in our local communities. The group was then led on one of the most intense exercises I have ever experienced. A plaque from the 20's that stated, "Coloreds Only. No whites allowed." was passed around to each person in the group and what came next, I don't think anyone expected. The deep and painful truths and experiences that people shared, were an undeniable snapshot of the reality that injustice that is alive and thriving in this country. 
After a much needed break, we proceeded to dive into individual components of D&I that could potentially be implemented into the programming of each chapter. We covered, learning about and knowing your area's demographics, how to use case studies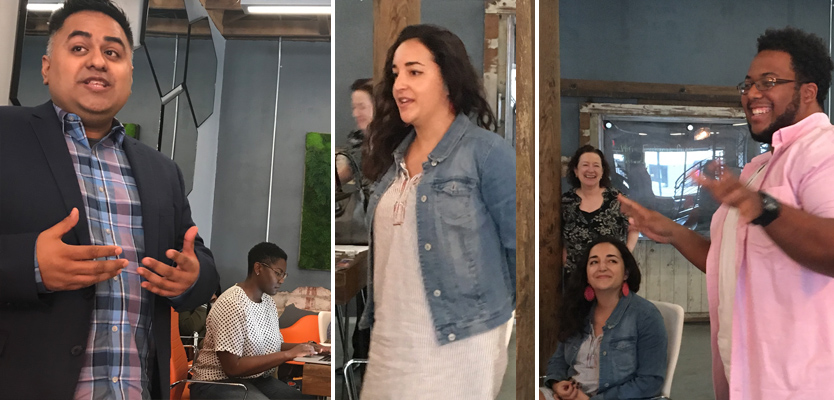 to reach potential stakeholders and partners, and utilizing the new resource guide book that the AIGA national task force recently released. We discussed the importance of using inclusive language to describe each other, tokenism, image selection and how to assess our inclusion of under-represented groups in all of our programming, including an accessibility preparations checklist, to make sure we don't forget anything.
We wrapped up with a evening full of of delicious food and beverages, great conversations, laughter and hugs. This is AIGA at its core. There is still so much equity and inclusion work to be done, but I am proud to be apart of an organization that is actively taking the steps to change the realities of our profession and be a leader in making the world better through problem solving, innovation, empathy and passion.
________________________________________________________________________________________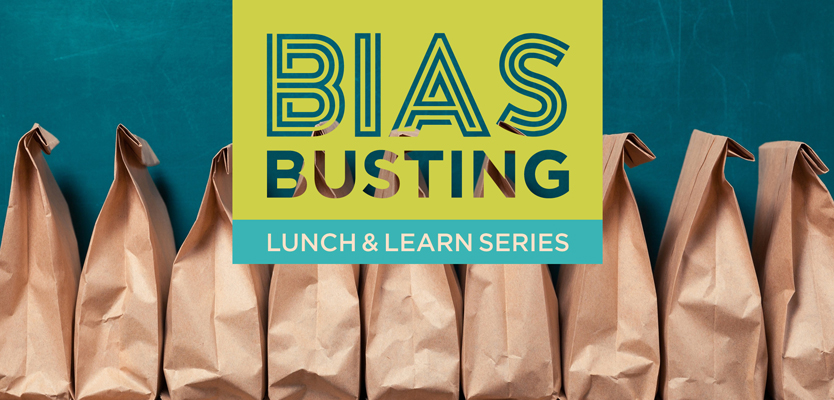 With all of this in mind, I want to invite you to join AIGA NE for a 4-part professional development lunch series focused on recognizing unconscious bias and providing tools to make conscious changes. "As with many things related to diversity and inclusion, bias remains poorly understood and often misunderstood. While we stubbornly cling to the idea that "bad people" are biased and "good people" are naturally free of bias, the truth is that as human beings we are naturally, automatically, and relentlessly biased and most bias does not involve any hatred or ignorance." – Joe Gerstandt
"We are all a part of the problem, which means that we all get to be part of the solution as well." Don't miss it! Sign up today. Only a few spots left.