What is the Human Library?
This powerful and popular global event is designed to bring together people who wouldn't otherwise cross paths, to challenge societal prejudices and biases wherever and for whatever reasons they occur, and to help people form a better understanding of those with whom they share their communities.
Individuals with diverse life experiences act as human books and can be 'checked out' for conversations. It's an opportunity to break through the expectations and labels we place on each other, to share stories, ask questions and challenge biases through open and honest dialogue. It's a safe space where difficult questions are expected, appreciated, and answered. 
What is a human book?
A human book is a volunteer that is willing to share their story through respectful conversation with members of the public, who borrow them.
Building a stronger community through empathy.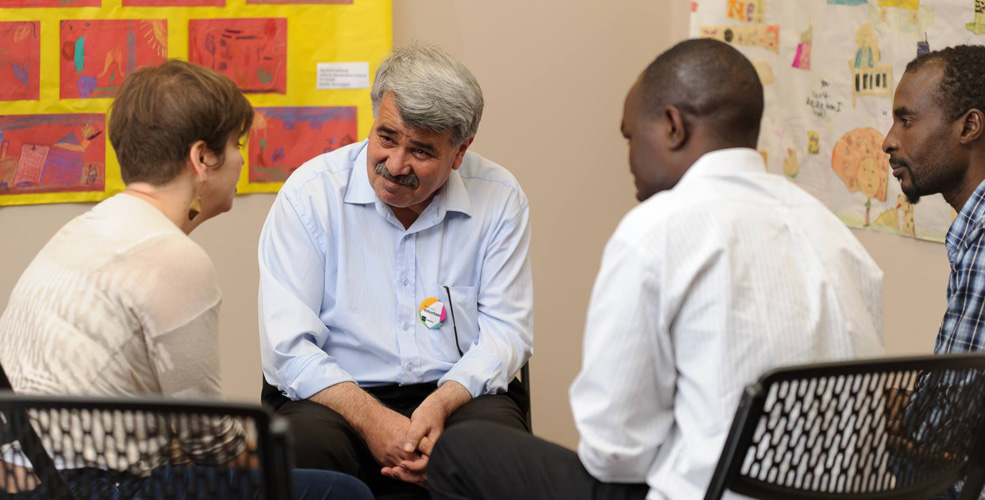 Now more than ever, empathy is extremely important, as issues of race and acceptance of others that are different than us are in the national conversation and often impacting all of us. Empathy is a powerful skill that allows us to see and appreciate another person's perspectives – essentially helping you understand what it's like to be in their position.
Participants, both volunteers and the public, gain the understanding that only dialogue between people can bring to break the barriers that separate us. Additionally, participants will walk away with a mutual understanding of being human beyond a single identity. Our volunteers cherish the experience to share their narrative with others and forge new connections.
How it works.
It's easy. Participants (Readers) go online (our reservations page opens on September 17, 2018), browse the list of titles, choose a subject they are interested in learning more about, and make a reservation for a time that is most convenient for them. Here are a few things to keep in mind:
This event is free and open to the public.

On the day of the event, arrive 10 minutes prior to your scheduled time and check-in.

At your appointment time, a volunteer will escort you to your  human book.

Conversations are 30 minutes long and will be held in small groups. There may be 3 to 4 people per group.

Human Library attendees can also park for free (bring your ticket into the library for validation) at Omaha Park One on 15th and Douglas streets.
Disclaimer
This is a time for conversation, not confrontation, so please treat the Books with care and respect.
Making a difference takes a community.
With the goal of of public engagement and education through community relationships, AIGA is partnering with the Omaha Public library to make the Human Library an annual fall event.
Next spring, AIGA will join the Omaha Public Library in supporting the UNO Criss Library Human Library event on UNO's main campus, so you'll have 2 chances to sign up and attend!
Apply to become a human book.

We are currently accepting proposals for Human Books.
Is your life a compelling story? Has something interesting happened to you? Do you want to shed light on a misunderstood topic or situation? Everyone is welcome to apply! Volunteer to share your experiences and promote understanding by challenging assumptions through small group conversations. We promise that being a book in the Human Library is more than you expect and something you will never forget.
Please fill in this application form. Once your application has been reviewed, you will be contacted via email, by a representative from AIGA Nebraska, or OPL to let you know if you've been accepted.
Considerations before you apply:
• Are you comfortable speaking in front of small groups of people?
• Are you willing to discuss your life's experiences and those similar to yours?
• Are you open to meaningful, personal, heartfelt conversations with strangers?
Timeline
July 31, 2018 – Deadline for book proposals
August 14, 2018 – Selected books will be notified
October 17, 2018 – Human Library, Omaha Public Library, downtown, 4 to 7 pm
Questions
Please contact Anna Wilcoxon, Diversity & Inclusion Librarian at OPL if you have any questions, awilcoxon@omahalibrary.org or 402-444-4850.
Interested in supporting the Human Library?
The Human Library AIGA NE and OPL event is free and open to the public. However, behind the scenes, there are expenses. Contributing enables us to provide volunteers with T-shirts, to promote events with posters and flyers, to give out promotional materials at an event, and provides snacks and beverages for the volunteers. All contributions are greatly appreciated and used efficiently to bring the best events to the public. Contact our Director of Diversity, Cathy Solarana to find out how to sponsor or donate at diversity@nebraska.aiga.org.